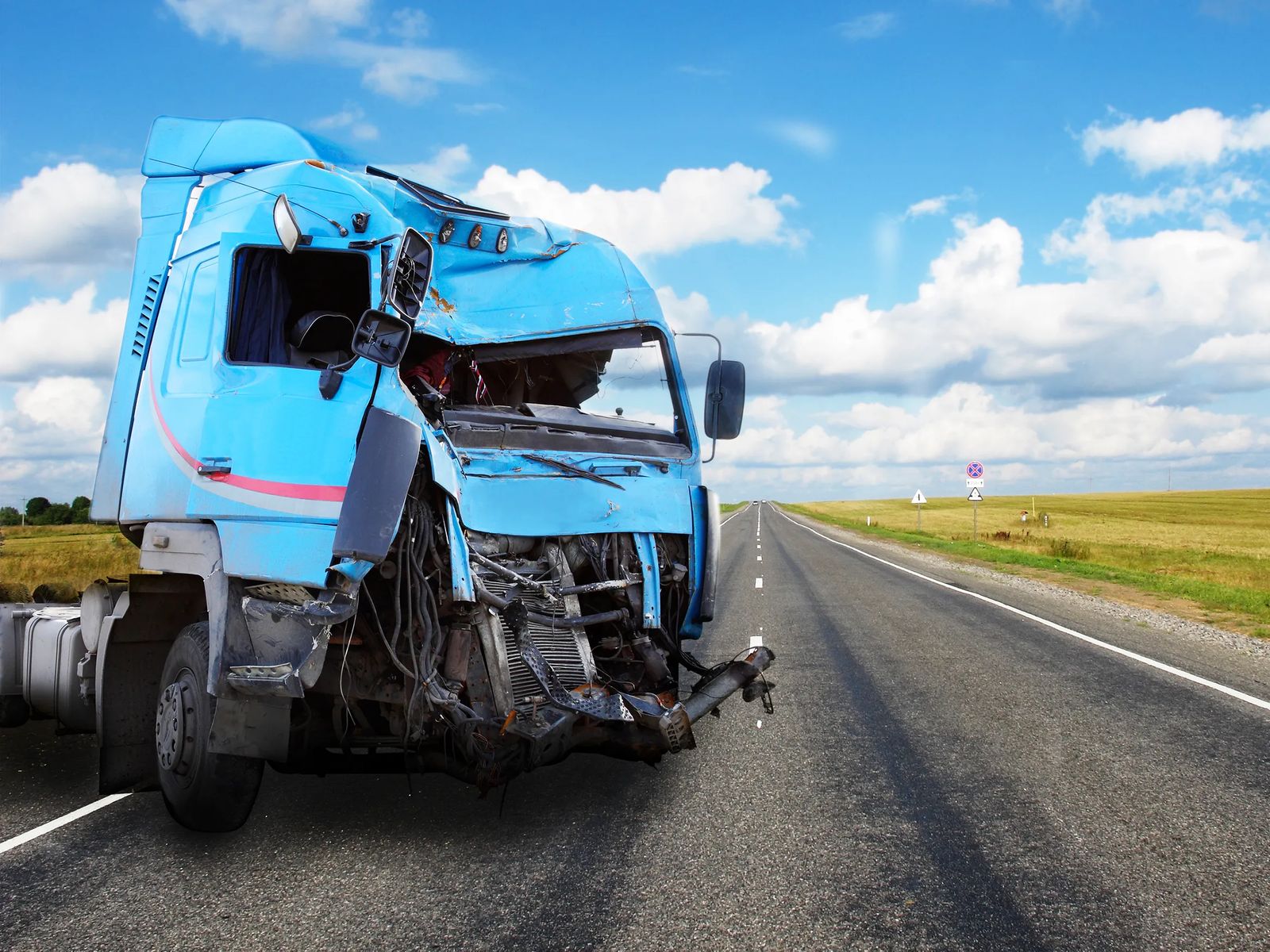 The Truck Driver
january 8, 2021 – Michael Marsh
The story of how humanization of the workers compensation claims process can result in amazing recoveries an financial consequences can be summarized by a follow up to a story done by Robert Wilson on workerscompensation.com.
In 2019 , Robert Wilson wrote on his blog at workerscompensation.com about a truck driver. This truck driver's workers compensation claim was complicated, dealt with multiple jurisdictions, and was handled by a small third party administrator thousands of miles from both the incident and the injured workers home and recovery locations.
I follow up in Mr. Wilson's blog because I have particular knowledge of the claim. This claim was handled by the professionals in my office in Montana.
I'll try not to reveal many specifics of the claim or the individual who was injured in the truck accident so as to protect his privacy. For the purposes of this story we'll call him Ken.
Robert Wilson indicated in his blog that the truck driver Ken was injured in a horrific semi truck accident. That was true. Ken suffered from a massive stroke while driving at highway speed in his semi truck, leaving the road and having a significant crash off the highway. Many questioned the survivability of that accident. But Ken did survive.
There's really no need for the purposes of this blog to get into the choice of jurisdiction. Suffice it to say that the incident or accident happened in a state in the southern United States and the employee who was injured lived in the western United States, neither state was where his official payroll was administered. The insurer, the client, and legal counsel agreed that a third state, the state that my company administers workers compensation claims in, was the proper jurisdiction.
So why was this claim noteworthy to the point that someone as esteemed as Robert Wilson would write about it? Mr. Wilson indicated that consistent with the small third party administrator's (my company) concept of handling claims in a way different than many in the industry, the focus was on to allowing and empowering the significantly injured worker and his family to retain their engagement, confidence, and humanity. To us, it was much more than simply determining the average weekly wage, investigating potential subrogation, setting appropriate reserves and determining if he would ultimately be deemed permanent total with respect to his workers compensation orthopedic injuries.
It is and has been our process for two decades to reach out and attempt to meet with every injured worker who is losing time from work while they are recovering. Yes, that means a face to face meeting with each indemnity claim individual. But how could we do that with an injured person in a recovery hospital a thousand miles away?
In this particular case, the claims professional that was working on the claim decided to take a family vacation during the handling of the claim. It just so happened that they would be in the same city in which the recovering worker lived and was recovering in a rehab facility. Our claims professional chose to take more than one half day of her personal vacation to go to the facility and to meet with Ken and his family.
Did Ken agree to see our Examiner? Did this make a difference in Ken's ability to recover? Did the meeting make a difference in Ken's average weekly wage? Did this make a difference in Ken's being determined to be permanent total? Importantly, did this make a difference to Ken and his family?
In our opinion, this claim has come to represent everything that I and my company represent in contrast to much of the rest of the workers' compensation claims industry. Did a personal meeting actually change any of the statutory benefit levels, acceptances, treatment, or other protocols typically used by a best practices document when a large insurer or self-insured evaluate the performance of a third party administrators claims handling? Obviously not. No. The facts were the facts.
The final and most important question on the claim in retrospect, however, was the question "did this personal meeting make a difference to Ken"? We believe the answer to that question is obviously YES. Not only were we able to work effectively with the treating providers providing care for both the stroke issues and the orthopedic issues, we were able to get relatively clear answers to our workers compensation questions about causation and recovery status and bring the claim to a full and complete, undisputed resolution.
In the post-closure claims discussion with the insurer's representatives, several issues were raised which we believe are the questions that every claims payer and claims administrator should be asking on their claims. The first question is one of litigation. Where jurisdiction was a potential question, and with the severity and complexity of the workers compensation injury versus the stroke (which was not related to the workers compensation incident as documented by the care providers) , how was it that the injured/recovering worker did not obtain counsel to prosecute his workers compensation claim? On the same claim, how was it that the claims professional was able to work with the care providers to separately identify workers compensation related care from non-workers' compensation related care? And how was it that the workers' compensation claims professional was able to resolve the claim, full and final, by settlement, undisputed?
The simple answer in our opinion is in keeping with my philosophy as documented in many of my other writings. Once people in the workers compensation system are treated as humans with their dignity, humanity, and engagement protected and enhanced, they will participate, they will engage, and they will work with you to bring their claim to conclusion. The majority of people in our country really don't want to litigate. Most of the workers' compensation people that we have worked with simply want to recover and get their lives back.
In the case of Ken, our workers' compensation claims professional visiting him in his recovery hospital in another state, while on her personal vacation made a significant difference. Thie meeting began the development of a trusting, non-disputed relationship over the course of several years of Ken's recovery. When it appeared to us that Ken had recovered to the full extent possible for his workers' compensation related injuries, and this was verified by two different doctors with their opinions being that he had reached achieved maximum medical improvement ("MMI"), we talked to Ken about finalizing his workers compensation claim. Not only was Ken willing to discuss settlement of his claim, Ken was pleased and repeatedly expressed his thanks for helping him through the most difficult time of his life. The settlement represented to Ken the end of a terrible chapter. In a way, settlement was a part of his healing.
There was no attorney involved to prosecute or defend the claim. The settlement included all of the statutory benefits that Ken was entitled to. In the settlement included a Medicare set aside, professionally administered with the cost funded by the insurer, providing for any potential long-term medical treatment necessary related to the workers' compensation injuries. The settlement discussion involved Ken, his family, and several members of our staff. Ken's claim was settled and approved by the work comp division, and the claim has been paid and closed.
Because of confidentiality, it would be inappropriate to comment upon the level level of settlement or any of the details. However, it is important to point out that when it was time to close the claim, we were questioned by both the insurer and their representatives how it was possible to bring the claim to conclusion hundreds of thousands of dollars less than their projections. I remember one question vividly: "How did you handle this and he not get an attorney?"
We used a process that humanized Ken's experience with the workers' compensation system, and helped him get as much of his life back as possible, which we define as doing the right thing. It is a natural and expected conclusion that bringing the claim to an undisputed, non-litigated conclusion achieved a significant financial savings for the ultimate workers' compensation payer. For my readers that are responsible for workers' compensation program results, look at your claim values in terms of converting potential permanent total claims for a mid-40 year old with at least 20 years of medicals and PTD wage loss benefits to an undisputed, settled and closed claim in less than four years. We are confident in your math skills.
Perhaps paying the flat rate per claim handling isn't the panacea that we may have thought it was in the past.
*the photo above is clip art and is NOT of the actual accident scene
Takeaway: Humanizing the workers compensation system works for the worker injured AND the payer.